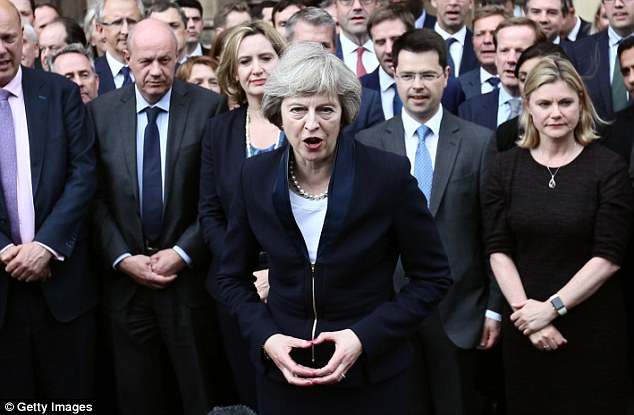 See: Charlie Hebdo (Paris Shooting, Jan 2015)
[2017 May] Theresa May writes exclusively for Jewish News: 'I'll be your community's champion'
[2017] Theresa May's Father. The Serial Killer, The Traveller's Daughter, and the Cover Ups
[2016 July] Theresa May — Friend of Israel and the Organized Jewish Community For Mrs May said she was proud of changing the British law to make it impossible to prosecute Israeli war criminals in the UK under Universal Jurisdiction, so that alleged killers such as Tzipi Livni and Israeli officers involved in crimes against Palestinian civilians can roam free in Britain. Pro-Palestinians in Britain applied in court for an arrest warrant issued for Livni who was Foreign Minister during Israel's brutal 2008 Operation Cast Lead operation but thanks to the intervention of the British government, automatic immunity was granted to Israeli government officials visiting Britain....It was also an occasion on which Mrs May declared her allegiance to the so-called "Community Security Trust," a Jewish vigilante body. Four months ago she was given a standing ovation at the annual CST dinner for handing over £13.4 million of British taxpayers money to this sinister organisation which claims to protect Jewish schools and synagogues. (This figure represented a £2 million increase on the figure promised by David Cameron the previous year which in itself was an increase of £3 million on the year before that!) Not long after Britain joined the international commitment to defend Charlie Hebdo's freedom to satirize Islam, Theresa May's Home Office began a prosecution against a White nationalist called Joshua Bonehill for publishing Holocaust cartoons on the internet. Bonehill was sentenced to three years and three months of imprisonment and has since been charged in prison for two-year old "race hate" tweets against a Jewish MP, the fragrant Luciana Berger.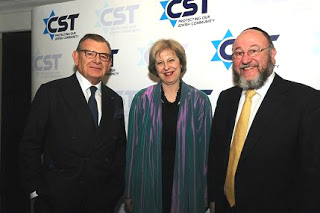 Theresa May at the CST dinner with Gerald Ronson and Chief Rabbi Ephraim Mirvis. CST provides 'security' to Jewish institutions. "In 2016, the UK government is committed to provide £13.4 million for security measures in the Jewish community in the coming year, Theresa May announced."
THE REAL THERESA MAY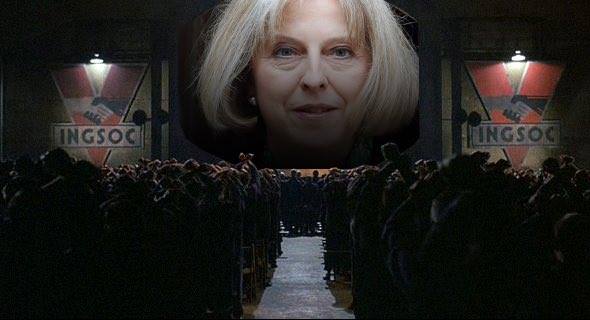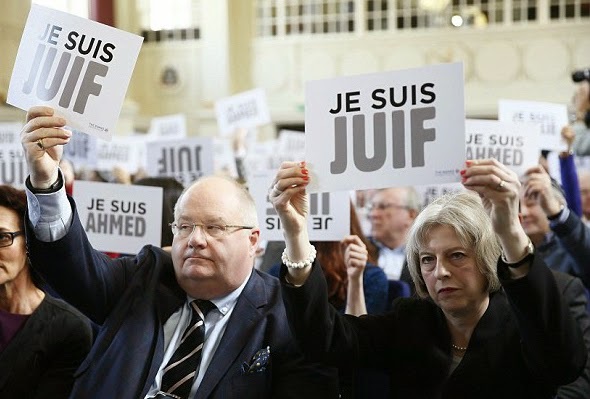 OUTED AS A JEW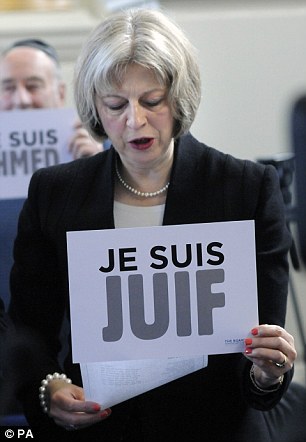 Photo taken at the ultra Zionist Board of Deputies meeting a week after the attack on the Hyper Cacher kosher supermarket in Paris.
[2016 July] Theresa May — Friend of Israel and the Organized Jewish Community