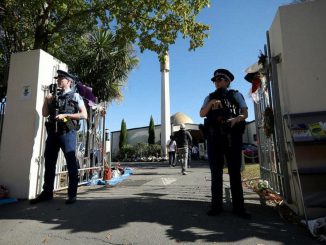 I
n New Zealand, there are at least two major enquiries into security/defence issues running in parallel at the moment, and the one that's demonstrating more transparency and candour is not the one that you'd expect. Surprisingly, it has been the Royal Commission of Enquiry into the Christchurch mosque shootings that has been proceeding under a cloak of the
utmost secrecy
. This Enquiry was set up to inform the public about the operational priorities and competence of our Police and Security Services in the wake of the alleged worst mass murder in New Zealand history. The best way of informing them, it has been decided, is to deny them access to the proceedings. Which stemming from a supposed Democracy being absolutely diabolical hypocritical and contemptuous. Every aspect of the Royal Commission's work has been conducted behind closed doors while the state spends up large on its own contingents of lawyers. State agencies also have been forbidden to publish what they said, or submitted, to the Enquiry. Those people and Non Governmental Organisations who testify cannot discuss their evidence, even with other like minded agencies.
At the end of this process in December, the public will apparently be expected to swallow whatever findings however unpalatable and biased they be based on the decisions the enquiry has reached via its own selective reasoning, in support of and upholding the Official Narrative. It reflects the reality that a lot of this is a discussion between people with power and does not instill any confidence in the due process's involvement and manner of investigation.
A Royal Commission of Enquiry spokeswoman
has defended the need for secrecy
on the grounds that this was required to make sure that government agencies could answer direct and probing questions without restriction and under urgency. Which does not explain why the public can't be allowed a passive presence, to hear what questions are being asked, and what answers are being given.
To date another enquiry, the Operation Burnham Enquiry hasn't exactly been a model of transparency either as it has gone about its investigation of the actions of the New Zealand Defence Force in Afghanistan, as alleged by Nicky Hager and Jon Stephenson in their book
Hit & Run.
Basically this public hearing will focus on the extent, cause and context of the civilian casualties that the New Zealand Defence Force initially, and comprehensively, denied had ever taken place. Incredibly, the New Zealand Defence Force will face (limited) cross examination in public on this matter. The hearing will take place in Wellington, from Monday September 16 until Friday September 20. By proceeding in this fashion,the Operation Burnham enquiry is lifting the very cloak of secrecy that the Royal Commission of Enquiry into the Christchurch mosque shootings claims to be so essential. Evidently, the Burnham enquiry believes the public has an over-riding interest in being able to hear direct and probing questions being put, and the answers being offered to them. To repeat: one official enquiry is claiming that closed hearings are necessary so that probing questions can be asked out of public earshot while the other official enquiry is claiming that probing questions can and should take place in a relatively open hearing, to better serve the public good. Only one of them is right. So is there any good news out there concerning this kind of exercise? Yes there is and it is coming from an unlikely quarter.
Advice, at a price
. As Radio New Zealand has
revealed
the numbers of communications "advisers" employed by the government keeps multiplying, long after they began to outnumber journalists by grotesque ratios of at least seven to one, the last time it was observed. Taxpayers keep paying these advisers at salary levels that are rising at rates well in excess of the average rate of wage inflation. Reportedly in some agencies, communications salaries above $100,000 annually are routine even though that annualised figure may be questionable in some cases, given the high prevalence of short term contracts. Unfortunately, the Iron Law of spin doctoring is that
the more p.r
.
people you hire
,
the less amount of genuine information gets out
. Which obviously is the
intent
and hardly surprising.
One of the prime purposes is to control the messaging.
To be fair, this trend may be inevitable. Certainly, the rise of the departmental/ministerial spin doctors can be read as a symptom of how a supposedly neutral public service has been subordinated to the political demands of ministerial messaging. It is that, but there's more to the story. As silo'ed decision making recedes and cross-departmental policies become the norm, woe betide any procedures that neglect any of the stakeholders deemed essential by each participating ministry or department. That's one reason for the apparent
stasis
, because the same basic message has to be subjected to its own tweaking and/or rewrites by the various advisers who represent the corners of each empire of stakeholders who might conceivably be affected by the policy proposal in question. Neglect any of them fail to consult or ignore their input at your peril. That's one reason why the output of
so many
, emerges
so slowly
. Meanwhile, the clock keeps ticking on the circa $100-120 hourly rate.